Los proyectos 2D EDGE y OISensing, liderados por el ICN2 y por el ICMAB-CSIC, han sido galardonados con el primer y segundo premio de la cuarta edición del Programa de Generación de Ideas, que organiza el Parc de Recerca UAB.
Concepció Rovira del ICMAB (CSIC/CIBER-BBN) recibe el Premio a la Excelencia Investigadora de la RSEQ de manos de Marina Villegas, Directora General de Investigación del MINECO y Jesús Jiménez-Barbero, Presidente de la RSEQ.
The Institute will receive one million euros per year for the next four years to develop the research program "Smart FUNtional MATerials for social grand challenges" (FUNMAT). The grand challenges to be addressed are: Clean and secure energy, Smart and sustainable electronics and Smart nanomedicine.

This Excellence Award recognized the international leadership of the center and places ICMAB in the list of the top research centers in Spain.
El Prof. Jaume Veciana ha estat anomenat Director Científic de la Instal·lació Científica-Técnica Singular NANBIOSIS.
La Junta de Gobierno de la Real Sociedad Española de Química acordó aprobar la concesión del Premio a la Excelencia Investigadora RSEQ 2015 a la Dra. Concepció Rovira Angulo en reconocimiento a sus sobresalientes contribuciones a la Química, plasmadas en desarrollos conceptuales y estudios sobre materiales moleculares multifuncionales, en particular con propiedades electrónicas y/ó magnéticas.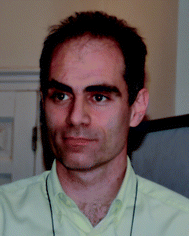 "Earlier this year, we announced that we would be launching a new open access journal, Heliyon, publishing sound science across all disciplines. We're excited to tell you about the next phase of this journey, as we launch the journal platform and open for submissions."
Jordi Faraudo from ICMAB is involved in this new journal as a member of the Editorial Board.
L'interès general per a promoure la paritat de gènere a la ciència i la tecnologia a la Comunitat Europea comença als anys 80 i culmina l'any 1999 amb la formació del grup de Hèlsinki amb l'objectiu d'examinar la situació de les dones a la ciència a 30 països.
AMIT es "una asociación no excluyente que pretende ser voz, foro de discusión y red de apoyo para todas las investigadoras y universitarias concienciadas de que tenemos que trabajar juntas".
Dr. Mariano Campoy-Quiles, from the Institute of Materials Science of Barcelona (ICMAB-CSIC), has been awarded a 2014 ERC - Consolidator Grant from the European Research Council.
Prof. Jordi Arbiol has been listed in the 2014 Top 40 under 40, Power List by The Analytical Scientist, as one of the Top 40 Analytical Scientists under 40 years.