A. López-Periago,* O. Vallcorba, C. Frontera, C. Domingo and J. A. Ayllón*
Dalton Trans., 2015,44, 7548-7553

The project is entitled "Ultrafast growth of ultrahigh performance superconducting tapes (ULTRASUPERTAPE)" and has been granted under the Panel PE8 "Products and Processing Engineering".
Hello, my name is Mónica Muñoz and I am from Madrid. I did my PhD in the department of physical chemistry I (Colloidal and supramolecular Chemistry group) at UCM and I obtained the PhD in chemistry in 2013. I was doing a postdoc in Italy during one year before coming to nanomol group, where I am going to do a postdoc of 2 years of duration in Nora`s group. See you!!! =)
Premi IEC de Ciències Químiques Antoni de Martí i Marquès.
29a convocatòria, ofert a la millor Tesi Doctoral redactada en llengua catalana, dels 3 últims anys.
El CSIC está presente en la edición 2015 del Saló de l'Ensenyament, con un estand ubicado en el 'Espai Ciència', una de las áreas especificas del Salón con la que se pretende acercar la investigación científica a los estudiantes y profesores de Secundaria.
L'interès general per a promoure la paritat de gènere a la ciència i la tecnologia a la Comunitat Europea comença als anys 80 i culmina l'any 1999 amb la formació del grup de Hèlsinki amb l'objectiu d'examinar la situació de les dones a la ciència a 30 països.
Se ha iniciado la inscripción a la 8ª edición del Programa Professors i Ciència de la Fundació Catalunya- La Pedrera. En esta nueva edición se ofrecen 160 plazas de formación al profesorado de secundaria de ciencias de Catalunya repartidas en 9 cursos de alto nivel de especialización y aplicabilidad en las aulas, que se realizarán durante el mes de abril y mayo de 2015.
NANOWIRE GROWTH WORKSHOP.
The Nanowire Growth Workshop is intended to provide a forum for lively discussion on the growth of semiconductor nanowires.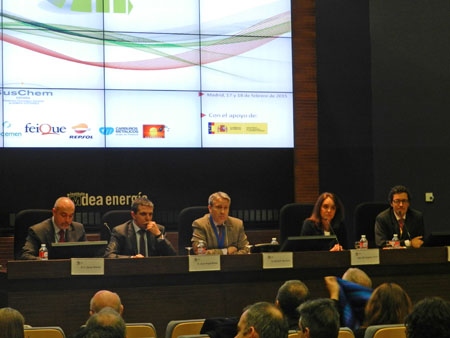 El pasado 17 de febrero tuvo lugar en Madrid el primer encuentro de expertos en la utilización y transformación del CO2. El evento, bajo el título 'Aportando Valor al CO2', estuvo organizado por PteCO2 y la Plataforma Tecnológica de Química Sostenible, SusChem España, teniendo en cuenta las sinergias del grupo de 'Usos del CO2' de la PteCO2 y del grupo de 'CO2 como materia prima' de SusChem.
Hello, my name is Raluca and I m from Romania. I'll be in ICMAB-CSIC for 4 month (until 30 june). I'll working with Dr. Anna's group. See you around!
My name is Rogger Palacios of Peruvian nationality, I have a degree in Physics of materials and a Masters in nanotechnology and advanced materials at the University Autonoma de Madrid. I'm at the ICMAB in the Group of Physical Chemistry of Surfaces and Interfaces, to start the PhD.
J. Am. Chem. Soc.
, Article ASAP
María de la Mata has been selected to participate in the 65th Lindau Nobel Laureate Meeting , to be held from 28 June to 3 July 2015, in Lindau, Germany. Only the 650 most qualified young scientists can be given the opportunity to enrich and share the unique atmosphere of the Lindau Nobel Laureate Meetings
Com viuen els temps de crisi els investigadors i els científics? Tot i que hi ha la creença generalitzada que és important impulsar la recerca i la innovació, els pressupostos dedicats a la investigació científica minven.
A càrrec de Marta Mas-Torrent, investigadora de l'Institut de Ciència de Materials de Barcelona (ICMAB-CSIC). Cicle 75 anys del CSIC