David Brian
Amabilino
ORCID 0000-0003-1674-8462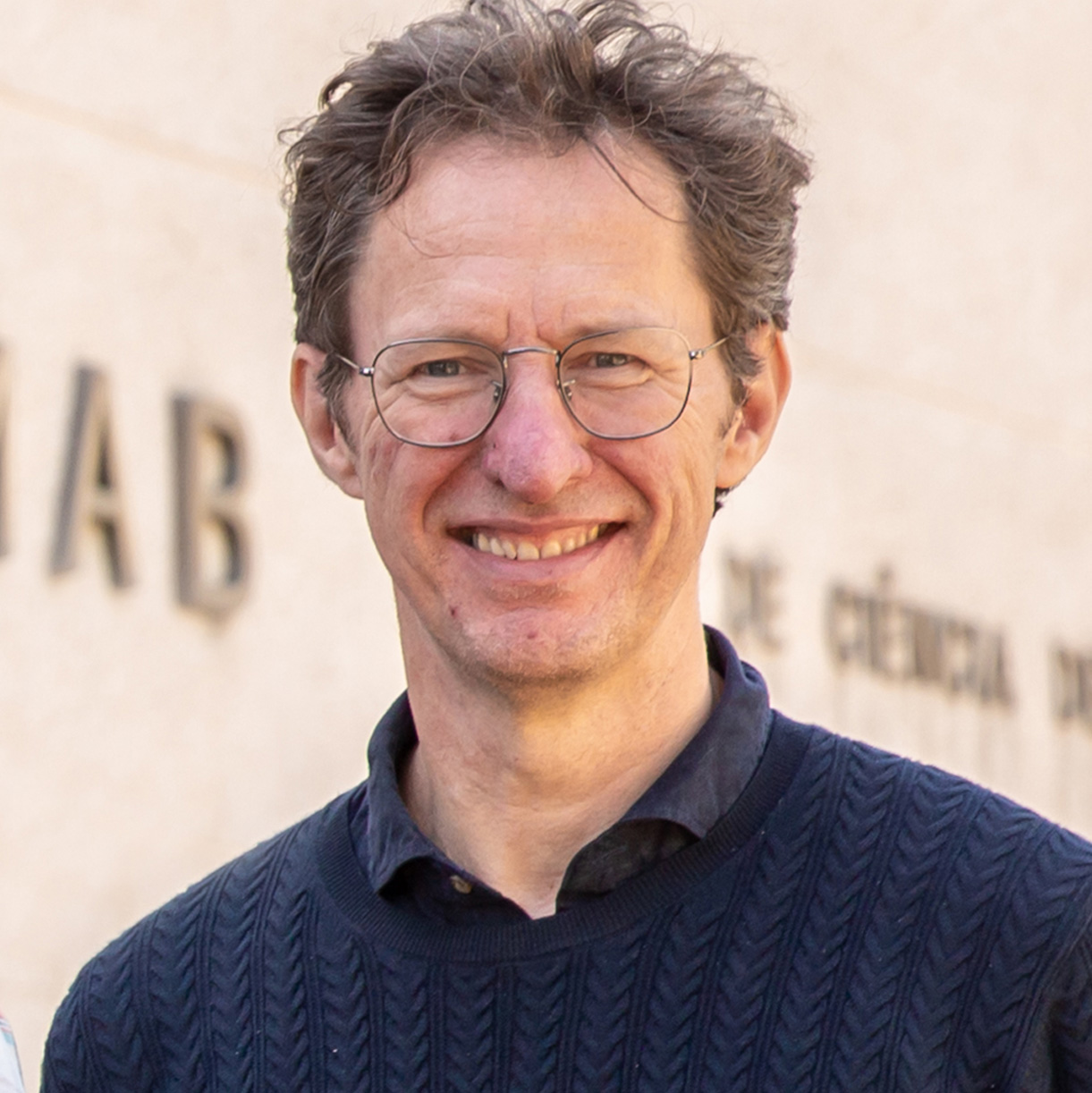 Contact data:
Extension: 436129
Direct phone: 932557329
Email: This email address is being protected from spambots. You need JavaScript enabled to view it.
Department: DIRECTION, SUSMOSYS
Biography
David Amabilino is an organic chemist by training who has worked increasingly in the field of materials science, particularly focused on the preparation of functional molecules that can exhibit a particular property, be it optical, electrical, magnetic or other. His degrees from the University of London were followed by a postdoc in the University of Birmingham (UK) with Nobel Laureate Fraser Stoddart, followed by a stay with the also Nobel Laureate Jean-Pierre Sauvage in Strasbourg. He came to the ICMAB as a postdoc and worked his way up to Research Professor.  That role was paused for a period as Professor of Sustainable Chemistry at the University of Nottingham between 2014 and 2021.  He has served on numerous committees, for evaluation and as societies, has presented invited talks at numerous conferences, has taught a broad spectrum of topics to undergraduate and masters students, and has had the privilege to supervise many brilliant PhD researchers. The research has been funded from Spanish, British and European Agencies.
Research interest
In general, the aim of David´s research is to make new materials that show new functions. The molecular materials made - ranging from small molecules to macromolecules - are characterized at both the molecular level, as self-assembled layers, thin films or bulk materials. His present research focuses especially on sustainable materials, often derived from chiral sources, that perform some function upon light irradiation. Supramolecular chemistry is used to influence the arrangements of the molecules. 
University Degrees:
BSc (Hons) in Chemistry from the University of London
Doctorates:
PhD in Chemistry from the University of London
Specialities:
Chirality, Energy, Gels, Green chemistry, Microscopy, Mass spectrometry, Molecular electronics, Molecular machines, Nanoscience, Organic photovoltaic devices, Organic synthesis, Photochemistry, Soft materials, Supramolecular chemistry, Surface science, Sustainable chemistry.
Most significative academic merits:
He is Associate Editor of Chemical Society Reviews, and is Fellow of the Royal Society of Chemistry. 
Awards:
He was awarded the Elhuyar-Goldschmidt Prize from the GdCh in 2011 for his research into molecular materials.
Scientific Highlights:
Ten recent articles:
 ·         Light-controlled micron-scale molecular motion
M. Samperi et al., Nature Chemistry, 2021 in press   https://doi.org/10.1038/s41557-021-00791-2
 ·         An imidazolium-based supramolecular gelator enhancing interlayer adhesion in 3D printed dual network hydrogels
Z. Zhou et al., Materials & Design, 2021, 206, 109792
 ·         Enhancing Singlet Oxygen Generation by Self-Assembly of a Porphyrin Entrapped in Supramolecular Fibers
M. Samperi et al., Cell Rep. Phys. Sci., 2020, 1, 100030
 ·         Natural optical activity as the origin of the large chiroptical properties in π-conjugated polymer thin films
J. Wade et al., Nature Comm., 2020, 11, 6137
 ·         Sustainable sorbitol-derived compounds for gelation of the full range of ethanol-water mixtures
G.C. Dizon et al. Soft Matter, 2020, 16, 4640
 ·         Quantification of energy of activation to supramolecular nanofibre formation revealing enthalpic and entropic effects and morphological consequence
M. Samperi et al., Chem. Sci., 2019, 10, 10256
 ·         Ground and excited states of bis-4-methoxybenzyl diketopyrrolopyrroles: Spectroscopic and Electrochemical Studies
A.S. Murphy et al., ChemPlusChem, 2019, 84, 1413
 ·         Real-space, fast and ultra-high resolution imaging of semi-crystallineorder and single strands of polythiophene using atomic force microscopy
V.V. Korolkov et al., Nature Comm, 2019, 10, 1537
 ·         Preferential motion of enantiomeric small molecule walkers under an external field
D. Abbasi-Pérez et al., Chem. Sci., 2019, 10, 5864
 ·         Self‐Assembly of Chiral‐at‐End Diketopyrrolopyrroles : Symmetry Dependent Solution and Film Optical Activity and Photovoltaic Performance
P.A. Hume et al., Chem. Eur. J., 2018, 24, 14461