ICMAB Events
The Matheroes and Madame Châtelet at the Congreso de Comunicación Social de la Ciencia
Three days to talk about communication, science and outreach, at the University of Burgos, from 9 to 11 October 2019, organized by the AECC (Asociación Española de Comunicación Científica) and the University of Burgos. Call for proposals and registration is open!
icmab
09 October 2019

DE QUÉ VAMOS A HABLAR
¿La sociedad de la información responde a un proceso de evolución o estamos viviendo una revolución que nos conduce hacia un futuro que somos incapaces de definir?

Estamos diseñados para crecer y cambiar. Como humanos, evolucionamos o desaparecemos.El VII Congreso de Comunicación Social de la Ciencia congregará en la Universidad de Burgos a comunicadores europeos e iberoamericanos para debatir en torno a estas y otras cuestiones que conduzcan a la reflexión sobre el presente y el futuro y favorezcan una actualización de las estrategias, destinatarios, agentes y objetivos de la comunicación social de la ciencia. Un encuentro internacional que pretende promover el acercamiento de todas aquellas personas que, desde un ámbito profesional y académico, trabajan por la divulgación del conocimiento, innovando tanto en los formatos, en los canales e, incluso, los mensajes.
PROGRAMA CIENTÍFICO
El VII Congreso de Comunicación Social de la Ciencia pretende servir de espacio para el análisis científico y la actualización de conocimientos en los ámbitos de la divulgación, popularización y comunicación científicas. Para ello, tratará de promover el diálogo y la discusión entre quienes ejercen una labor profesional en dicho ámbito y quienes, desde el ámbito académico, se dedican al estudio de los diferentes formatos. De la misma forma y fiel a la reivindicación del protagonismo de la ciencia en la cultura universal que ha presidido los congresos anteriores, el CCSC propondrá debates sobre el lugar que ocupa la ciencia en la cultura social a través de la percepción de representantes de otros ámbitos culturales como la música, la literatura o el deporte.
DÓNDE
Universidad de Burgos
Hospital del Rey, Facultad de Derecho
09001 Burgos
PARTICIPANTES
Investigadores, gestores, periodistas especializados, divulgadores científicos... unidos en un foro de debate y networking.
CUÁNDO
Del 9 a 11 de octubre 2019
SPONSORS
Fundación Caja Burgos, Junta de Castilla y León, Mahou-San Miguel, Ayuntamiento de Burgos, Museo de la Evolución Humana.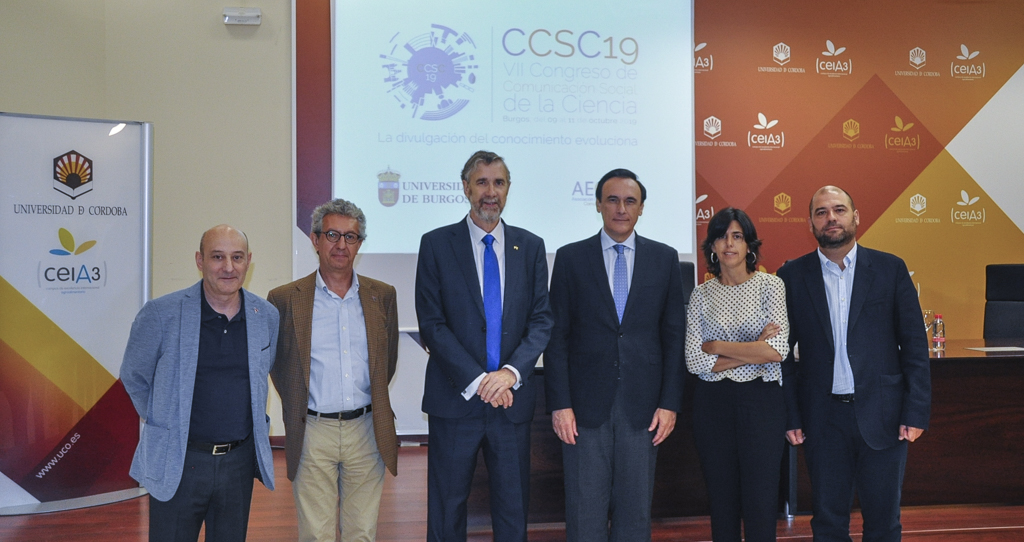 Foto: Organizadores del Congreso de la AECC.
MÁS INFORMACIÓN