Mariano
Campoy Quiles
Emerging materials for the future photovoltaic and thermoelectric technologies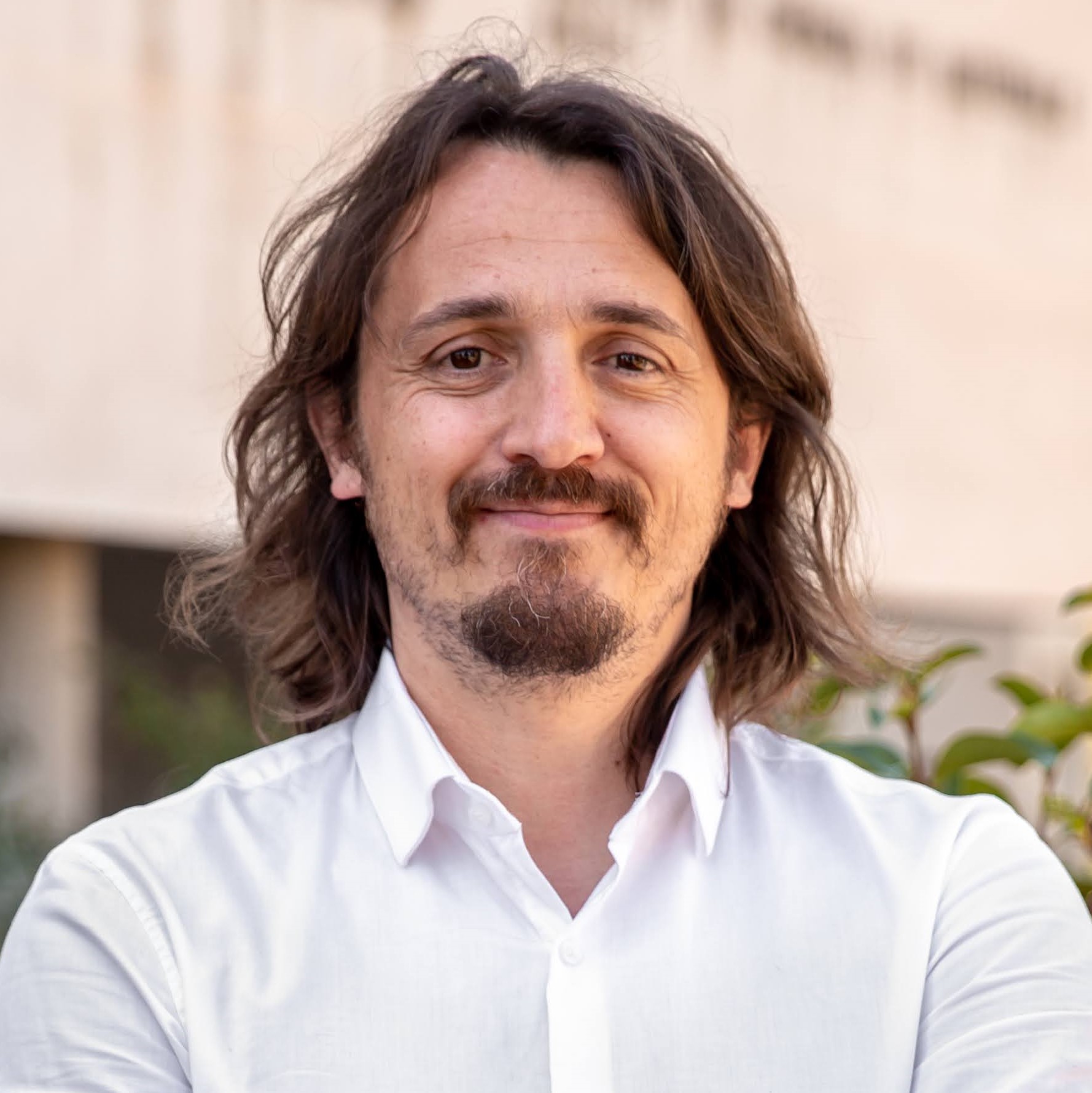 Contact data:
Extension: 436179
Direct phone: 932557379
Email: This email address is being protected from spambots. You need JavaScript enabled to view it.
Department: NANOPTO
Biography
My group aims at contributing to make clean energy accessible for everybody by using scientific knowledge to develop new, cost-effective renewable energies technologies. My research focuses on the processing, fundamental properties and applications of organic semiconductors, with special emphasis on Organic Solar Cells and Thermoelectric Generators. My group is interested on the interplay between structure (at the nano and micro-scale) and device performance. We are continuously developing novel processing schemes to control the structure of organic films, with the aim of improving the performance of the devices and simultaneously understanding the fundamental processes that govern their properties. One of our main strenghts is the use of spectroscopy (specially Raman and ellipsometry) for the characterization of organic semiconductors. Other areas of interest include polymer based photodiodes and lasers, as well as nanofibers and other complex "macro structures". We are also interested in other material systems with strong potential for energy applications, including hybrid perovskites, oxides, and carbon nanotubes.
I am a physicist and my core expertise lies in combining novel material processing methods with advanced spectroscopic techniques focusing on renewable energy applications such as organic photovoltaics and thermoelectric generators. After finishing my degree in physics in Santiago de Compostela, I embarqued in a PhD under the supervision of Prof. Donal Bradley at Imperial College London in United Kingdom, where I studied organic lasers and started to build experience in spectroscopic characterization tools. Then working in the same institution under the supervision of Prof. Jenny Nelson, I was part of a national collaboration project together with researchers at Cambridge and at UCL, where we demonstrated the viability of organics for X-ray medical imaging applications. Afterwards, as a Fellow of the Japan Society for the Promotion of Science I worked with Prof. Hideyuki Murata (JAIST) in the field of organic solar cells and nanostructuration techniques. I joined The Consejo Superior de Investigaciones Científicas in 2008, first as JAE-Doc, then as Ramon y Cajal fellow and since 2012 as Tenured Scientist. In 2018 I was internally promoted to Research Scientist (Investigador Científico, 2nd level in CSIC´s 3 level scale for permanent public servants).

My work is already highly recognized internationally as illustrated by the large number of citations (~7100) that my publications have attracted, and the numerous publications in high impact journals such as Nature Materials. I was the recipient of the 2012 Young Researcher in Experimental Physics Award of the Spanish Royal Society of Physics and the Fundación BBVA.  I am co-author of 120 articles, four review papers, three book chapters and co-inventor in four patents. I have given more than 30 invited presentations. I was the principal investigator in three projects of the Plan Nacional, one bilateral with Japon, and several with the private sector. I have been awarded an ERC Consolidator Grant 2014 for my project FOREMAT, aimed at developing high throughput methods for the efficient evaluation of multicomponent organic materials for photovoltaic and thermoelectric applications.
Research interest
Recent reference publications and patents on photovoltaics
Predicting the photocurrent–composition dependence in organic solar cells     Xabier Rodríguez-Martínez, Enrique Pascual-San-José, Zhuping Fei, Martin Heeney, Roger Guimeràand Mariano Campoy-Quiles, Energy & Environmental Science 14, 986-994 (2021).
Efficient exploration of the composition space in ternary organic solar cells by combining high-throughput material libraries and hyperspectral imaging, A. Harillo-Baños, X. Rodríguez-Martínez & M. Campoy-Quiles,  Advanced Energy Materials, 10, 1, 1902417 (2020).
High-Throughput Multiparametric Screening of Solution Processed Bulk Heterojunction Solar Cells, A. Sánchez-Díaz, X. Rodríguez-Martínez, L. Córcoles-Guija, G. Mora-Martín & M. Campoy-Quiles,  Advanced Electronic Materials 1700477 (2018) DOI: 10.1002/aelm.201700477
Exploring the origin of high optical absorption in conjugated polymers, M. S. Vezie, S. Few, I. Meager, G. Pieridou, B. Dörling, R. Shahid A., A. R. Goñi, H. Bronstein, I. McCulloch, S. C. Hayes, M. Campoy-Quiles*, J. Nelson*, Nature Materials, 15, 746–753 (2016)
The reversible hydration of CH3NH3PbI3 in films, single crystals and solar cells, A. Leguy, Y. Hu, M. Campoy-Quiles, M.I. Alonso, O.J. Weber, P. Azarhoosh, M.V. Schilfgaarde, M.T. Weller, T. Bein, J. Nelson, P. Docampo & P.R.F.Barnes, Chem. Mater. 27, 3397 (2015)
Morphology evolution via self-organisation and lateral and vertical diffusion in polymer:fullerene solar cell blends, M. Campoy-Quiles, T. Ferenczi, T. Agostinelli, P. G. Etchegoin, Y. Kim, T. D. Anthopoulos, P. N. Stavrinou, D. D. C. Bradley & J. Nelson, Nature Materials, 7, 158 (2008)
PCT/ES2011/070841: "Position sensitive photodetector, fabrication procedure, and photoresponse measurement method" M. Campoy & J. Cabanillas/ to CSIC and IMDEA.
Recent reference publications and patents on thermoelectrics
Reduction of the Lattice Thermal Conductivity of Polymer Semiconductors by Molecular Doping, Osnat Zapata-Arteaga, Aleksandr Perevedentsev, Sara Marina, Jaime Martin, Juan Sebastián Reparaz, & Mariano Campoy-Quiles, ACS Energy Letters, 5, 9, 2972–2978 (2020)
Farming thermoelectric paper, D. Abol-Fotouh, B. Dörling, O. Zapata-Arteaga, X. Rodríguez-Martínez, A. Gómez, J. S. Reparaz, A. Laromaine, A. Roig, & M. Campoy-Quiles, Energy and Enviromental Science, 12, 716-726 (2019)
Solar harvesting: a unique opportunity for organic thermoelectrics?     J. P. Jurado, B. Dörling, O. Zapata‐Arteaga, A. Roig, A. Mihi & M. Campoy‐Quiles, Advanced Energy Materials, 9, 45, 1902385 (2019).
A Solution-Doped Polymer Semiconductor:Insulator Blend for Thermoelectrics, D. Kiefer, L. Yu, E. Fransson, A. Gómez, D. Primetzhofer, A. Amassian, M. Campoy-Quiles, and C. Müller, Advanced Science, 4,1600203 (2017)
Photoinduced p- to n-type Switching in Thermoelectric Polymer-Carbon Nanotube Composites, B. Dörling, J. D. Ryan, J. D. Craddock, A. Sorrentino, A. El Basaty, A. Gomez, M. Garriga, E. Pereiro, J. E. Anthony, M. C. Weisenberger, A. R. Goñi, C. Müller, & M. Campoy-Quiles, Advanced Materials, 28, 2782–2789 (2016)
Thermoelectric Composites of Poly(3-hexylthiophene) and Carbon Nanotubes with large power factors, C. Bounioux, P. Díaz-Chao, M. Campoy-Quiles, M. S. Martín-González, A. R.Goñi, R. Yerushalmi-Rozen & C. Müller, Energy Environ. Sci. 6, 918 (2013)
ES1641.1145 (PCT/EP2016/078459): "Semiconducting composites with tunable p- and n-type characteristics for flexible printed electronic applications" B. Dörling, A. R. Goñi, J. Ryan, C. Müller & M.Campoy-Quiles/ to CSIC.
 Recent publications on morphology control
Rapid and high-resolution patterning of microstructure and composition in organic semiconductors using 'molecular gates', A. Perevedentsev & M. Campoy-Quiles, Nature Communications, 11, 3610 2020
Controlled Pinning of Conjugated Polymer Spherulites and Its Application in Detectors, B. Dorling, A. Sanchez-Diaz, O. Arteaga, A. Veciana, M.I. Alonso & M. Campoy-Quiles, Advanced Optical Materials, 5, 1700276 (2017)
Uniaxial macroscopic alignment of conjugated polymer systems by directional crystallization during blade coating, B. Dörling, V. Vohra, T. Thanh Dao, M. Garriga, H. Murata & M. Campoy-Quiles, Journal of Materials Chemistry C, 2, 3303-3310 (2014) [Invited article for the 2014 Emerging Investigator Issue]
One-Step Macroscopic Alignment of Conjugated Polymer Systems by Epitaxial Crystallization during Spin-Coating, C. Müller, M. Aghamohammadi, S. Himmelberger, P. Sonar, M. Garriga, A. Salleo & M. Campoy-Quiles, Advanced Functional Materials, 23, 2368-2377 (2013)
Publications on optoelectronics and spectroscopy
Polymer:Fullerene Bimolecular Crystals for Near-Infrared Spectroscopic Photodetectors, Z. Tang, Z. Ma, A. Sanchez-Diaz, S. Ullbrich, Y. Liu, B. Siegmund, A. Mischok, K. Leo, M. Campoy-Quiles, W. Li, & K. Vandewal, Advanced Materials 29, 1702184 (2017)
Quantifying local thickness and composition in thin films of organic photovoltaic blends by Raman scattering, X. Rodríguez-Martínez, M. S. Vezie, J. Nelson, A. R. Goñi, & M. Campoy-Quiles, Journal of Materials Chemistry C 5, 7270-7282 (2017)
Advanced Ellipsometric Characterization of Conjugated Polymer Films, M. Campoy-Quiles, M. Isabel Alonso, D. D. C. Bradley & L. J. Richter, Advanced Functional Materials, 24, 2116 (2014)
Simultaneous Optimization of Semiconducting Polymer Films for Optical Gain and Charge Mobility, B. K. Yap, R. Xia, M. Campoy-Quiles, P. N. Stavrinou & D. D.C. Bradley, Nature Materials, 7, 376 (2008)
University Degrees:
Degree in Physics from the University of Santiago de Compostela, Spain
Doctorates:
PhD in Experimental Physics from Imperial College London, UK
Specialities:
Processing of organic semiconductors and polymers
Hybrids, oxides and carbon nanotubes
Spectroscopic characterization of materials
Solar cells
Thermoelectrics
Optoelectronic applications
Most significative academic merits:
Coordinador de la sublínea de Materiales para la Energía de la Agencia Estatal de Investigación, 2019
Investigador Científico del CSIC, 2018
Scientific Executive Board Member of ICMAB, 2016
Coordinator of the Energy Research Line of ICMAB, 2016
CleanTech Camp award finalist, 2016
ERC Consolidator grantee, 2014
Premio Investigador Novel en Física Experimental 2012, concedido por la Real Sociedad Española de Física y la Fundación BBVA
Científico Titular del CSIC, 2012
Ramón y Cajal Fellow, 2009 (Spain)
Fellow of the Spanish Research Council, 2008 (Spain)
Fellow of the Japanese Society for Promotion of Science, 2007 (Japan)
Scientific Highlights:
Farming thermoelectric paper, D. Abol-Fotouh, B. Dörling, O. Zapata-Arteaga, X. Rodríguez-Martínez, A. Gómez, J. S. Reparaz, A. Laromaine, A. Roig, & M. Campoy-Quiles, Energy and Enviromental Science, 12, 716-726 (2019)
Exploring the origin of high optical absorption in conjugated polymers, M. S. Vezie, S. Few, I. Meager, G. Pieridou, B. Dörling, R. Shahid A., A. R. Goñi, H. Bronstein, I. McCulloch, S. C. Hayes, M. Campoy-Quiles*, J. Nelson*, Nature Materials, 15, 746–753 (2016)
Morphology evolution via self-organisation and lateral and vertical diffusion in polymer:fullerene solar cell blends, M. Campoy-Quiles, T. Ferenczi, T. Agostinelli, P. G. Etchegoin, Y. Kim, T. D. Anthopoulos, P. N. Stavrinou, D. D. C. Bradley & J. Nelson, Nature Materials, 7, 158 (2008)
Simultaneous Optimization of Semiconducting Polymer Films for Optical Gain and Charge Mobility, B. K. Yap, R. Xia, M. Campoy-Quiles, P. N. Stavrinou & D. D.C. Bradley, Nature Materials, 7, 376 (2008)