External News
The day research stood up
As response to the COVID-19 pandemic starts to take shape, the field of research places its eyes in the future. What they see is less than comforting. Spanish researchers start organizing to show the precariousness they face in their careers under the hashtag #SinCienciaNoHayFuturo #NoScienceNoFuture. At the same time, two major initiatives demand more funding for research all across Europe, already trying to stop the next crisis that will happen. All of these events, happening on the same day (17 June 2020), point out the difficulties that have been affecting the scientific area and that will keep existing unless action is taken.
Artur
19 June 2020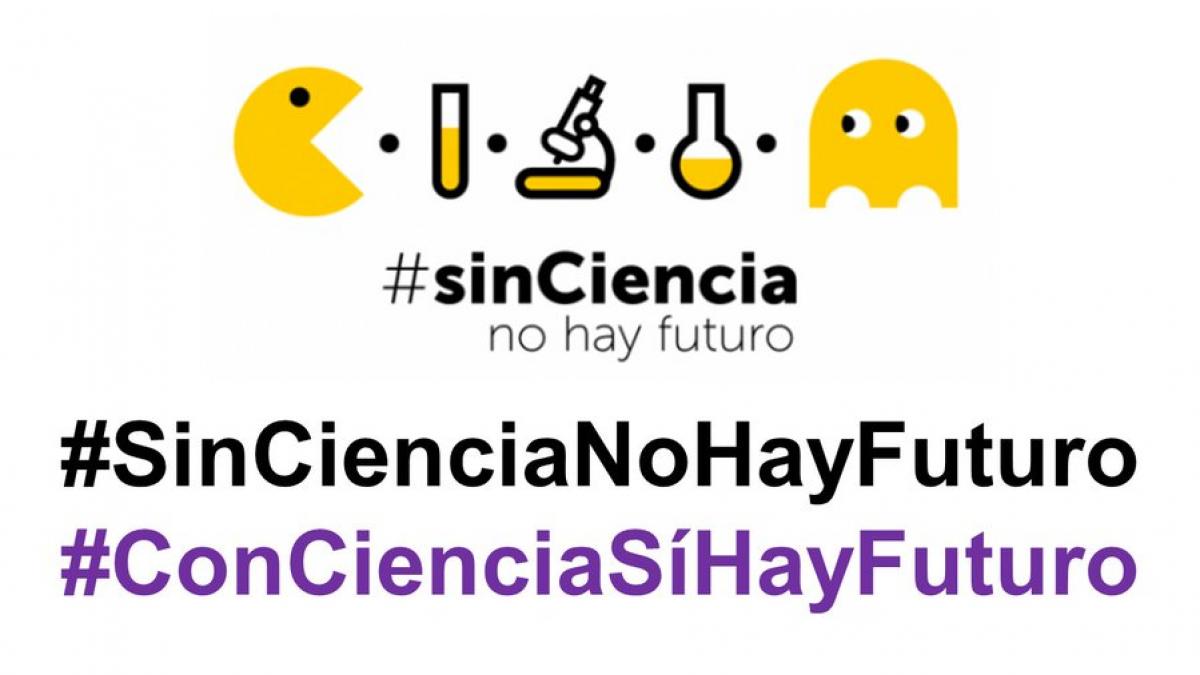 #SinCienciaNoHayFuturo
The #SinCienciaNoHayFuturo (#NoScienceNoFuture) virtual protest was concentrated on a specific date, Wednesday 17 at 12 pm, through the use of this now massively shared image (Left image):
Figure: (Left) Original banner for #SinCienciaNoHayFuturo, (Right) Tunning of the banner to compare the Spanish research funding with the investment for AVE.
If you visit the hashtag #SinCienciaNoHayFuturo, which is still active at the time of writing, you will find messages of support from several researchers and institutes, both national and international. A modified version of the poster that includes a graphic by Isabel Toledo showing the different AVE lines in Spain (Right image), tries to contextualize how underfunded research is: all of the funding in research is equivalent for 14 km of train tracks, and there are 3140 km all through Spain (0.41 %).
There also was a letter sent by Pharmacy Student Maria Cholvi Simó and then published in El País in which she succinctly explains how the situation is lived by young researchers:
"One day I asked if I could do an internship. I entered a lab. There was nothing. Not a single Research Line due to lack of funding. For this reason, today the world will shout #SinCienciaNoHayFuturo"
When considering the state of research and funding in the current climate, ICMAB Researcher from the Nanostructured materials for optoelectronics and energy harvesting (NANOPTO) group Mariano Campoy-Quiles, who also collaborates with the Agencia Estatal de Investigación (AEI), says:
"Research has been key to solve the current health crisis, and it will help contain possible new waves. But there will be more crisis. Maybe due to lack of water, or pollution episodes, or possibly due to a lack of clean and reliable energy sources. In that moment it will become clear how betting for a robust research system that is both properly funded and with decent career paths would help controlling such situations and minimize the social economic effects of those crisis. If we understand that Olympic medals require training, equipment and installations, why do we fund science like Nobel prizes were a gift?" - Mariano Campoy-Quiles, researcher at NANOPTO group and AEI collaborator
#Cities4Science
As this situation developed, a different claim appeaared, this one penned by Barcelona's Mayor Ada Colau as well as other 5 European Cities Mayors who demanded, among other points, an increase of funding for the 2021-2027 Horizon Europe research program.
The #Cities4Science letter is signed by:
Ada Colau, Barcelona's Mayor

Michael Müller, Berlin's Mayor

José Luis Martínez-Almeida , Madrid's Mayor

Giuseppe Sala, Milan's Mayor

Dieter Reiter, Munic's Mayor

Anna König Jerlmyr, Stockholm's Mayor
Directed towards several European institution leaders, European Parliament groups and State leaders, this letter also points the lack of funding that plagues European research and indicates that it has created a weak ecosystem in which research can not flourish. It does so through the specific point of view of life and science in cities, which are affected by specific health and wellbeing issues, like population density, pollution, mobility and the average population ageing.
In order to successfully face these issues, the letter demands for:
An increase of the budget for European Research and Innovation in the UE to 120,000 million euros.

Assurance that the grants planned for Horizon Europe will be available in 2021 to avoid interruptions in research programs in the change between the Horizon 2020 and Horizon Europe programs due to the COVID-19 crisis.

An increase of the funding for grants within the

Marie Sklodowska-Curie program that favors women researchers as well as other vulnerable groups
Boosting of the Erasmus+ program for increased European mobility for doctorate students
How to ensure health safety in Europe?
In a similar vein,
another letter was published
in the frame of European research. This one is signed by the members of
EU-LIFE
, an alliance of 1
4 European research institutes in the area of biomedicine
that advocate for excellence in European research. This alliance includes:
In their communication, the EU-LIFE members demand for specific actions to take in order to improve the structure of research in Europe, starting with an increase of 50% on the Horizon Europe budget, bringing it to 150,000 million euros.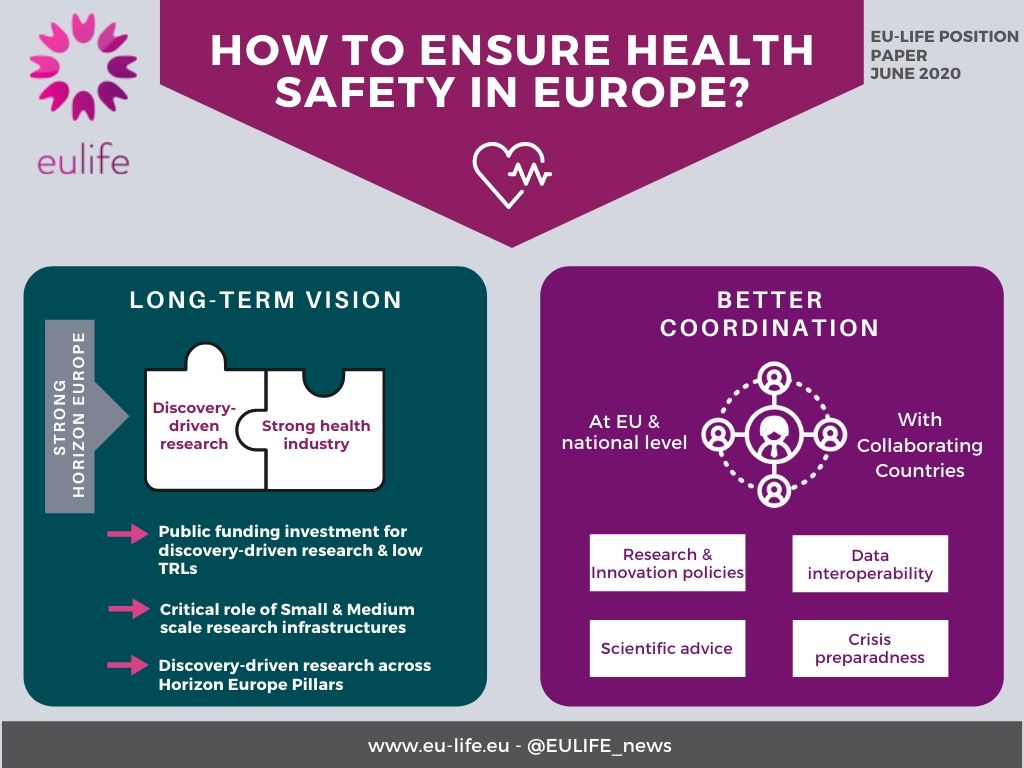 "Whenever a new global crisis arises, we all look at science for solutions, because we know that existing solutions for past crises such as AIDS resulted from discovery-driven research. That is why we urge the European Council to support a strong Horizon Europe budget and ensure that discovery-driven research has the necessary resources in Europe" - Marta Agostinho, EU-LIFE Coordinator
With this in mind, the alliance also demands that 35 % of the funds go to blue skies research, since this kind of basic research that has to straightforward application is harder to fund through private investment. In their communication they cite a study that indicates that "every additional 1 € invested in discovery research performed in knowledge institutions (such as research institutes and universities) is reported to generate at least 4.2 € of added value for society".
While focused in European action, EU-LIFE underscores the importance of national investment in research, considering European funding as a supplement to each country's investment on the field. The alliance calls for an increase of the average European nation's investment in Research and Development to a 3% of the national PIB, from the current average of 2%. In Spain, that number is actually lower: only 1,24 % of the Spanish PIB is invested into research.
"The pandemic's death toll and economic devastation shows us that Europe and its constituent nations need to wake up and see investment in science, health and keeping local industry as a life or death necessity, not as something that is simply nice to have. Our continent's future success depends on it," - Luis Serrano, Director of the Centre for Genomic Regulation (CRG).
Some open questions that need answers
Some of these problems have clear cut solutions. Some of them are harder to face. The process to develop a healthier and more effective scientific field is a long one. ICMAB Director Xavier Obradors raises a few questions to consider:
Do we need pandemics to acknowledge that research motivates universal wellbeing and the global economy?

Should we risk our health to commit to facing global challenges through research?

Are we aware that science fights against ignorance and that winning this fight requires effort, time, and determination?

Can humanity go without science and scientific culture when facing the main global issues, like sustainability, climate change, and cultural democratization?

Can our country afford being at the bottom of the line when it comes to funding research and creation of an advanced society based on knowledge?

Science is an international objective. Can we dispense of the catalysis that is European cooperation?
Time for you to think about it. Researchers have already spoken and stood up, and will continue to do so.
More information:
In the press:
Cover image: #SinCienciaNoHayFuturo Poster